Forbidden Mansion
The Mansion is where Professor Puzzlewit dwells, expect to face puzzles that will hurt some brain cells!
Surprises await and once you're indoors, there's confusion and tunnels and upside down floors.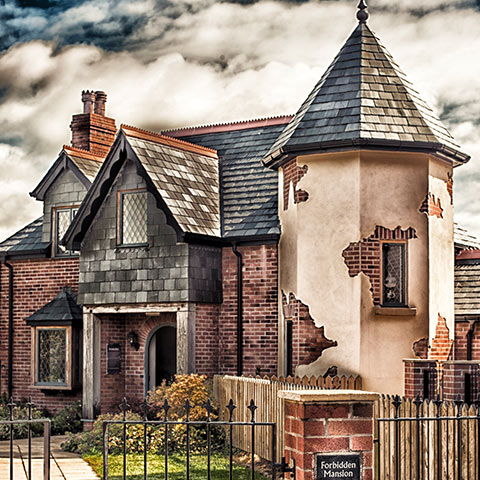 The Forbidden Mansion is bigger than it appears possible from the outside – and a million magical miles from your average abode. Professor Puzzlewit is away, so sneak in, explore his weird and wonderful world and take the Ultimate Challenge if you dare.
Make your way to the grand staircase and to a galleried landing where framed portraits seem to be watching you.
Discover the cook's kitchen with its secret entrance through the bread oven; and the boiler room has only one exit… but where is it? As you discover a labyrinth of secret passageways and hidden doors nothing is what it seems.
A perspective-bending corridor gets narrower and lower as you stoop to reach its end. You can walk on the ceiling and look up at the floor in the upside-down room and try to find your way out of the "room of doors".
It's crazy, it's mind-boggling
and it's great fun!
Please note:
The Forbidden Mansion, features stairs, dimly lit rooms and some mysterious noises. Whilst the Professor is away, all is not as quiet as it would seem!